Photovoltaic panels: problem and opportunity
In terms of enhancing energy security and reducing climate change, photovoltaic (PV) technology is one of the most promising and greenest.
Therefore, the global solar PV modules reached an installed capacity of 940 GW in 2021 and according to the International Energy Agency this value is predicted to increase to 5 TW by 2050.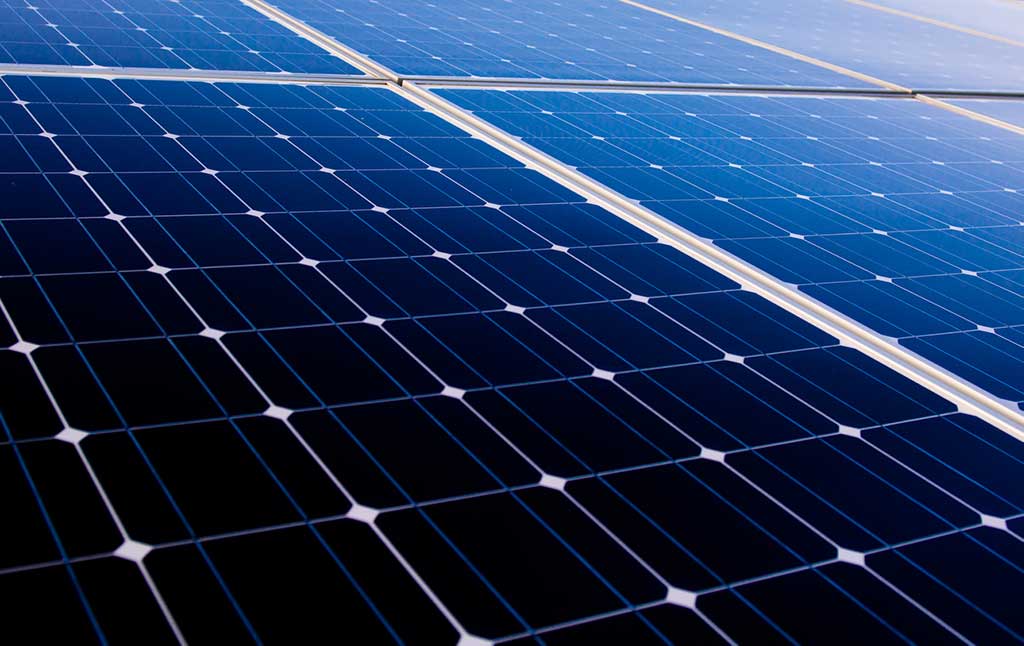 The usual lifetime of a PV panel is roughly 25 years, and since the first installations date back to the 2000's, a significant rise in the yearly flow of end-of-life PV panels may be expected around 2025.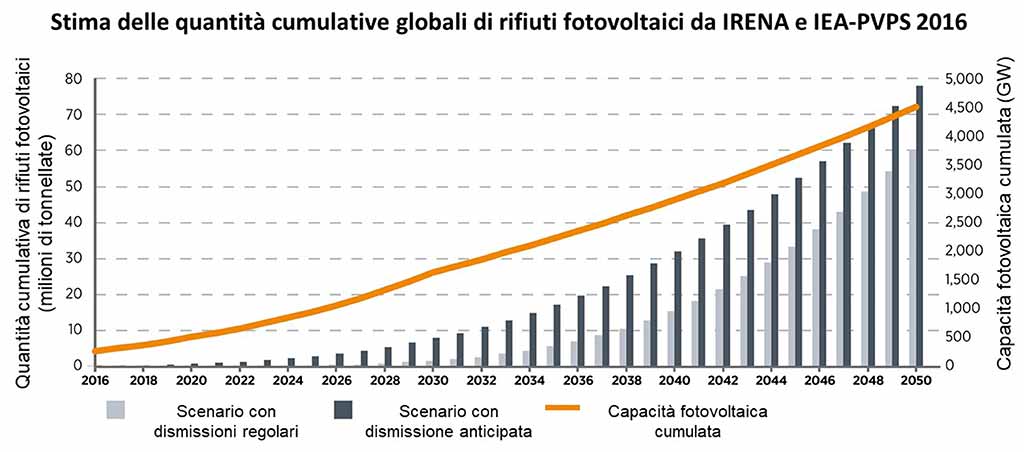 Furthermore, estimations indicate that by 2030 there will be 1,7÷8,0 million tons of waste PV panels worldwide, and by 2050 this amount will rise to 60÷78 million tons. Therefore, considering the rapid increase of the PV waste generation, proper management of end-of-life PV panels with recovery of precious materials is an urgent issue that requires both cost-effective and environmentally sustainable solutions. from enviromental point of view.
Mechanical treatment
Mechanical treatment based on shredding PV panels is the only recycling approach currently available on an industrial scale. The process recovers aluminum from frames, glass granule and copper granules after sieving the shredded mixed waste.
This glass, which typically contains numerous impurities, is recycled, but the remaining powder, which contains Silicon and Silver in addition to glass and plastic, is sent to landfills or used in extremely low-value applications to replace sand. These plants only recover up to 147 €/ton from the recovered materials (Boris Lesjean, Veolia, EIT RawMaterials Expert Forum 2022), which is less than 30 percent of the potential value that could be achieved if Silver and Silicon were also recycled. Thus, with these solutions "it remains difficult to find a business model to support the operation" (Bertrand Lempkowicz, PV Cycle).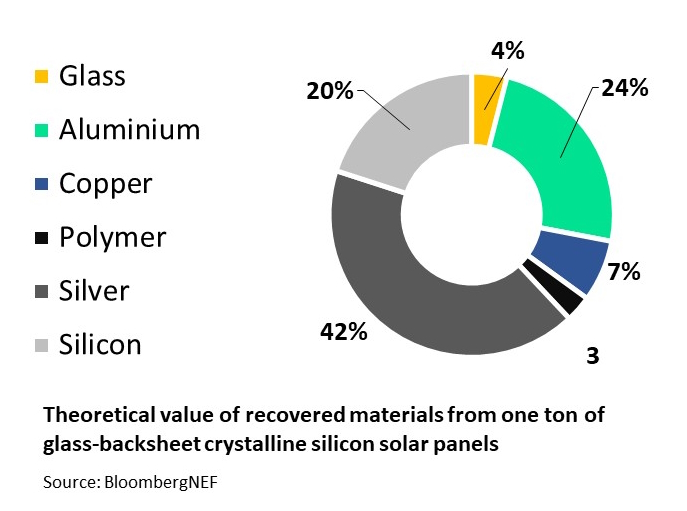 Thermo-chemical process
The thermo-chemical process for the recycling of end-of-life photovoltaic panels allows the recovery of all inorganic materials with higher yield and purity if compared with solely mechanical treatments: this represents a non-negligible advantage because it allows the production of high-value products.
This process has been studied for years by the University of Padova on a laboratory scale and was further developed from 2017 to 2020 during the ReSiELP research project supported by the EIT RawMaterialswww.ReSiELP.euDuring this research project, it was verified that the material recovery is feasible at TRL 7..
Despite the good results obtained by RESiELP, the recovery line was not yet ready to be developed industrially because some parts had to be optimized to make the process profitable.
Starting from the know-how acquired during the project, 9-Tech has studied different solutions to make it cost-effective as well. The technology has been validated and is being improved and industrialized through our projects for the recovery of secondary materials from photovoltaic panels.
Other projects on recycling photovotaic panels
An innovative plant for the recovery of the materials that compose the photovoltaic panels
The project for the chemical recovery of silver that uses low environmental impact reagents.
RIS project for the recovery of silicon from end-of-life panels in Apulia.
The project that aims to treat 3000 t/year of photovoltaic panels to recover 87% of materials with high purity
Discover the 9-Tech world